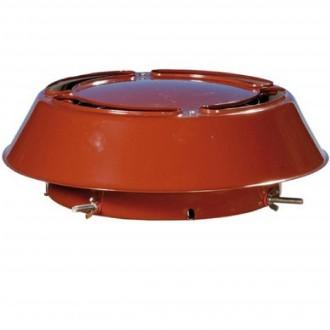 MAD COLT ANTI DOWNDRAFT COWL (ALL FUELS) MAD13
Product Code: 09GUA0050
Suitable for all fuels (removing bird guard for solid fuels is recommended, due to the mesh being gas certified)
Static anti downdraught cowl in aluminium and powder coated in terracotta. All strap fixings and birdguard are stainless steelas well as standard hook bolts also made from stainless steel.
Tested and certified under new regulation BSEN 16475-7:2016 and BSEN-1856-1:2003
Fully assembled
No special tools required for installation
Effective at solving downdraught problems when wind blows from any direction
Unconditional Money Back Guarantee (explained under features)
Withstands flue temperatures up to 200 degrees celsius
135mm (h) x 435mm (w)
Suitable for up to 250mm internal - 300mm external. If your pot exceeds these measurements please consider using the Oversize Pot Adapter Flat (link below).
Comes with rain gauge to effectively prevent rain ingress into your chimney
Back to Listings