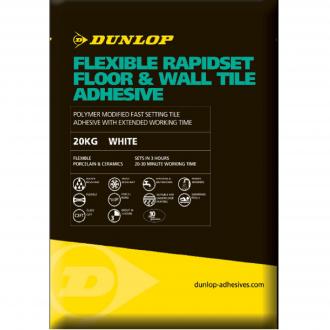 DUNLOP FLEXIBLE RAPID SET TILE ADHESIVE WHITE 20KG
Product Code: 84DUN0065
DUNLOP FLEXIBLE RAPIDSET ADHESIVE is a white rapid-setting, powder-based tile adhesive, suitable for fixing floor and wall tiles, fully vitrified including porcelain, mosaics, quarry, brick slips and stone cladding.
It offers many benefits to users including rapid-setting properties meaning tiles can be grouted 3 hours after fixing.
The set adhesive is frost and water-resistant and can be used in showers, or under continuous immersion such as swimming pools.
Longer working time and increased open time allows for larger mixes and gives additional time to apply the adhesive and fix the tiles.
LONGER WORKING TIME OF 20 – 30 MINUTES
EXTENDED OPEN TIME OF 60 MINUTES
SETS IN 3 HOURS
EASY TO USE AND NON-SLIP
SUITABLE FOR NATURAL STONE AND LARGE FORMAT WALL TILES
INTERIOR & EXTERIOR USE
Back to Listings