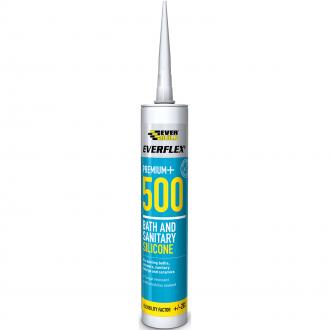 EVERBUILD 500 BATH & SANITARY SILICONE C3 295ML WHITE 500WE
Product Code: 84EVE0280
Everflex Premium+ 500 Bath & Sanitary Silicone is a premium quality mid-modulus acetoxy cure silicone sealant that contains a high level of a powerful anti-fungal compound to protect the sealant. Typically used in areas of high humidity, such as bathrooms, toilets, showers, and kitchens in both commercial and domestic applications.
Uses
All internal sealing in areas of high humidity or subject to condensation.
Sealing around baths, showers, basins, and sanitary-ware.
Sealing around worktops and laminates.
Cap sealing to metal, timber, and PVCu window frames.
As an adhesive for fixing PVCu trims and panels.
General weatherproofing applications.
Advantages
Will not discolour on aging even in humid/damp conditions.
Permanently flexible.
Quick curing - low dirt pick up.
Waterproof seal.
Certified under the harmonized European standard
EN15651 for façade, glazing, cold climate, and sanitary applications in compliance with the Construction
Product Regulation.
Back to Listings