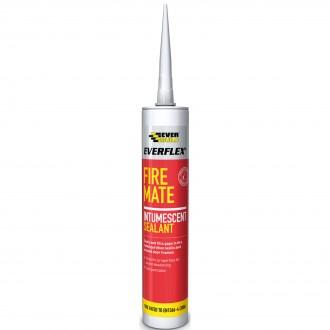 EVERBUILD FIRE MATE SEALANT C3 EVEFIRE
Product Code: 28FIR0116
Everflex Fire Mate Intumescent Sealant is an acrylic sealant that swells when exposed to temperatures in excess of 125°C to prevent the passage of fire and smoke and has a fire rating of up to 4 hours in certain joint configurations.
Featured properties
Fire-rated to EN1366-4 (2006). Acoustic rates to BS EN ISO 140/3
When exposed to heat, it swells greater than 150% of its original size, creating a char that will resist the passage of fire for up to 4 hours.
No priming required for most construction substrates.
Permanently flexible with more than 100% elongation to ISO8339.
For use in joints up to 50mm wide.
Excellent acoustic properties for sound deadening - Average noise reduction of 24db (100-3150Hz).
Non-slump - easy to apply and tool off.
Fast cure - tack-free in 15 minutes.
Over paintable.
Certified under the harmonized European standard EN15651 for façade for interior applications in compliance with the Construction Product Regulation
Easy to apply and tool off
Back to Listings