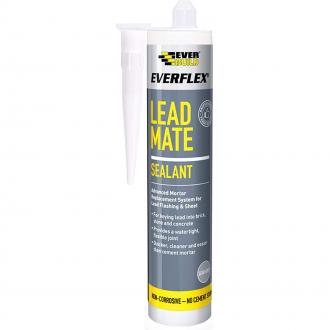 LEAD MATE SEALANT GREY 310ML CARTRIDGE LEAD
Product Code: 84SEA0010
EVERBUILD® Lead Mate® Sealant is a low modulus, neutral cure sealant specifically designed to give exceptional adhesion to soft metals such as lead, brass etc.
The product is specially formulated as an alternative to mortaring Lead Flashing and Sheet into Brick, Stone and Concrete, providing a fully waterproof joint that will not crack or shrink.
USES
As an alternative to mortaring in Lead flashing and sheet into brick, stone and concrete
Suitable as an expansion joint sealant
Weather sealing and joint sealing to pre-formed panels
Sealing soft metals such as lead, copper and zinc
Parapet and roof weather sealing applications
CHARACTERISTICS / ADVANTAGES
Excellent adhesion to metals - will not stain (cement) or corrode soft metals unlike most conventional sealants
Low dirt pick up
Excellent flexibility +/- 25%.
Excellent low and high (+150°C) temperature resistance
Low (<5%) shrinkage during vulcanisation.
High resistance to plasticizer migration - may be used over water based and solvent based paints
Excellent external weathering properties.
Certified under the harmonized European standard EN15651 for façade interior, exterior and cold climate applications in compliance with the Construction Product Regulation
Back to Listings