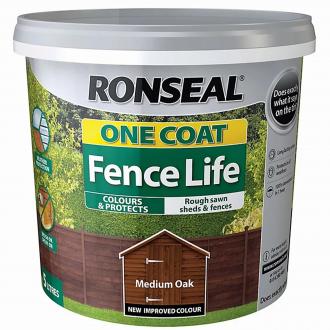 RONSEAL FENCELIFE ONE COAT 5LTR MEDIUM OAK 38289
Product Code: 50PAI0600
Just one coat will protect your shed or fence from rain and prevent it from greying in the sun. Despite the name, One Coat Fence Life can be used on any rough sawn wood so it's suitable for sheds too. Available in a range of colours, it protects and colours your wood, keeping it looking great.
100% showerproof in one hour
Keeps its colour for up to two years
Protects your wood from greying

Can be brushed or sprayed

Comes in a range of natural colours
You can't use this stain on decking, garden furniture or other smooth planed wood
Cold wet weather stops the stain from drying and could wash it off. So make sure it's a warm day with the temperature above 10°C and no rain is forecast.
The wood needs to be clean and dry so the stain can soak in properly. To clean the wood, use a stiff brush to get rid of any dirt.
If you want to cover up a bright, strong or contrasting colour, you'll need to use extra coats.
This stain is safe to use around plants and pets.
Back to Listings